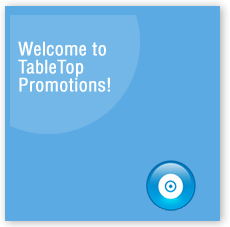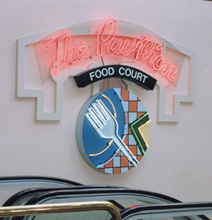 TableTop Promotions Intl, Inc. has a unique advertising network that's growing and concentrating on providing an effective alternative to product advertising. The opportunity of making long-term media buys now exists for your company at costs that are extremely affordable. Heavily trafficked food courts, local restaurants and cafes, hotel and motels statistically show an average of 15 minutes to one hour of socializing or eating at their tables. This time and space has never before been utilized to convey any advertising messages UNTIL NOW!

Our TableTop Media Displays (TMDs) are an innovative custom design where consumers can view and retain an advertising messages in terms of minutes and hours rather than just seconds, or not at all. We have received patented status from the United States patent office as a "custom made" advertising medium which replace the existing tables in mall food courts, cafes, local restaurants, and hotel/motel hospitality areas. These tabletop displays feature a multitude of custom variations that are made available to the host company. Our Patented TableTops have a viewing window that contains computer generated ads that are in full color and are surrounded with a theme background or border. The TableTops and graphics are designed to enhance advertising opportunities and complement the host company's dacor.

Our quality TableTops are constructed for one purpose, to create synergy between the host location and its partnering advertisers so the advertiser can sell their products and services to the local marketplace. If you're a manager or owner of a restaurant, cafe or food court, and you want to take your cost center and turn it into a profit center please click on the link below!